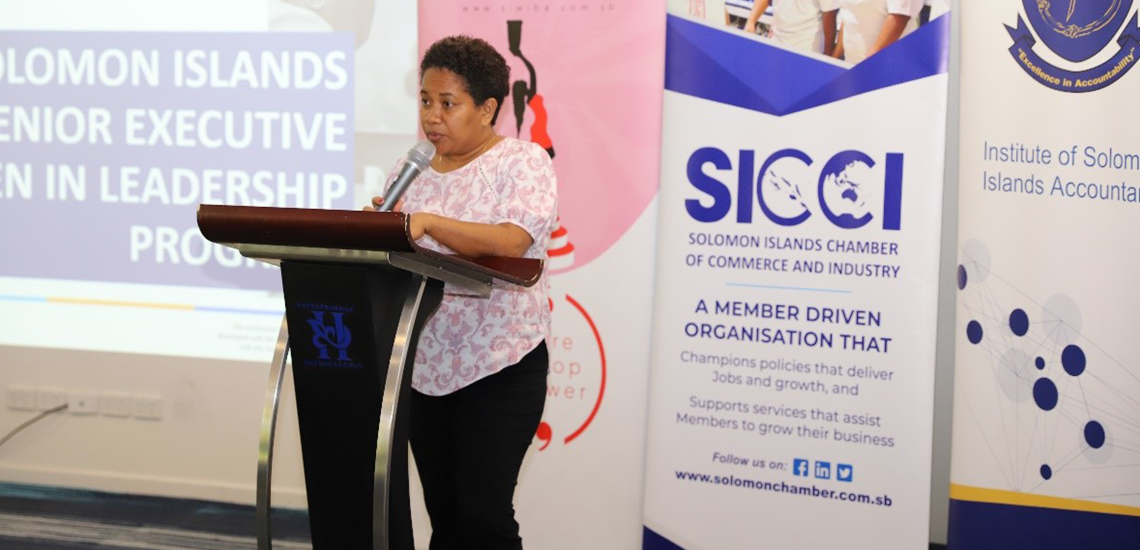 ISIA CEO Pamela Alamu delivering her opening remarks
Tuesday 19 September, Honiara - A four-day training program is currently underway in Honiara aimed at building a pool of businesswomen and professional women with relevant knowledge and skills required to enable them to effectively participate in the decision-making process at higher organizational levels.
The Solomon Islands Senior Executive Women in Leadership Program is delivered through a partnership between the Institute of Solomon Islands Accountants (ISIA), the Solomon Islands Chamber of Commerce and Industry (SICCI) and the Solomon Islands Women in Business Association (SIWIBA).
This is the third delivery of the program for this year 2023.
Through the partnership between ISIA, SICCI and SIWIBA, they have collaborated with a shared vision of diversity and inclusivity to help strengthen women's active participation in higher decision-making positions whether it be in business, organisations or on boards or committees.
Delivering her opening remarks today (Tuesday 19 September 2023), ISIA Chief Executive Officer (CEO), Pamela Alamu highlighted that with this training they hope to provide participants with relevant knowledge and skills in key areas that are important as a starting basis to support them in building their overall leadership skills.
"With the knowledge they will gain from these four days of training, we believe that participants should gain an overall picture of leadership in higher-decision positions which they can build on.
"Participants will also be provided with a participant handbook, that they can use as reference guide to support them after they have completed this training," Alamu said.
This training program was developed in 2022 under the Private Sector Development Initiative (PSDI) Program which was implemented by the Asian Development Bank (ADB) and funded by the Governments of Australia and New Zealand.
This was after the PSDI presented its findings on a survey that they did previously across the Pacific on women representation in higher decision-making positions.
Ms Alamu said one of the key issues raised through the findings is that Solomon Islands is ranked the lowest in comparison to other Pacific Islands countries that were surveyed in terms of women representation on higher decision-making positions in the private sector.
"This is not surprising because apart from cultural factors affecting women's leadership, there is very limited opportunities available to build and empower women in this space of leadership.
"This is what we want to change through this collaboration effort. We want to look at effective ways in which we can start developing women and empowering them so that they can be effective in the areas in which they serve, and one of the first steps is to have a structured training on fundamental areas considered critical for effective leadership in this space," ISIA CEO, Ms Alamu, said.
She concluded by acknowledging the efforts of everyone who has participated in the long process of developing this concept and transforming it into the actual training program we have today.
-ISIA Media
Solomon Islands Chamber of Commerce & Industry
1st Floor, Suite 213, Hyundai Mall,
Central Honiara,
P.O.Box 650,
Honiara,
Solomon Islands
T: (+677) 39542
T: (+677) 39543
F: (+677) 39544
E: services@solomonchamber.com.sb