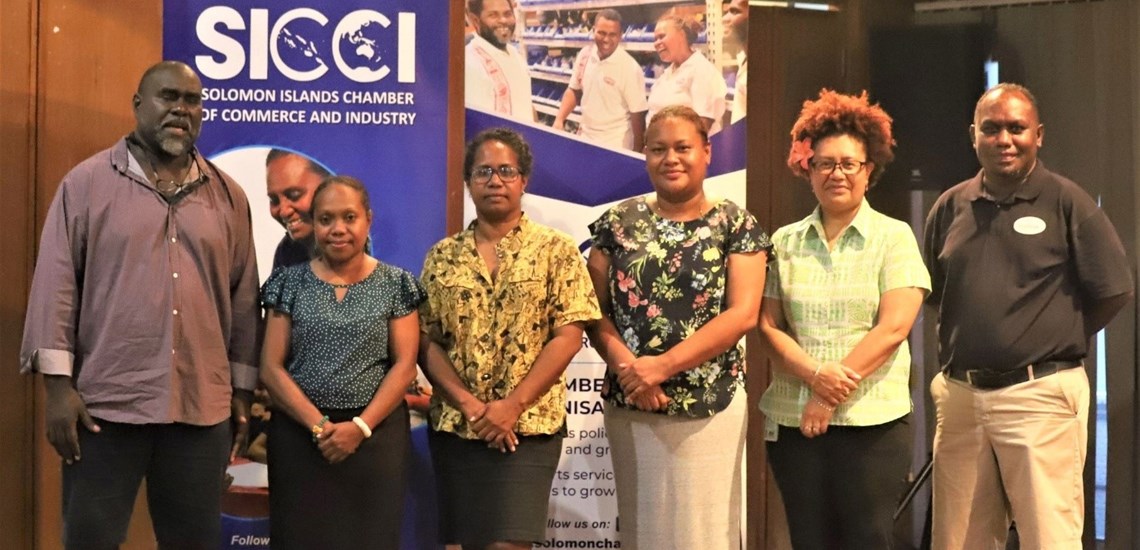 The Solomon Islands Chamber of Commerce and Industry (SICCI) hosted its 46th Annual General Meeting (AGM) on Friday 31st March, 2023 which allowed members to elect new Board Members for 2023/2024.
Qila Tuhanuku, Corporate Affairs Manager of Solomon Breweries Limited was elected unopposed replacing outgoing Chairman, Ricky Fuo'o. Ms Tuhanuku is the first female chair of the SICCI Board, leading a board predominantly women business leaders.
"Our members' confidence in the leadership and governance of the Chamber is reflected by the re-election of four current Board Members," said Natalina Hong, Chief Executive Officer of SICCI.
Ms Tuhanuku's vision and leadership will undoubtedly help steer the Chamber towards new heights of success, and her appointment reflects the Chamber's progressive approach to fostering a diverse and inclusive business community. In her statement relaying her vision, as first female Chair, Ms Tuhanuku said,
"As the incoming Chair I am aware that COVID-19 restrictions have drastically impact the economy and many businesses have not yet fully recovered after 2 years. 2023 will continue to have its challenges. The Pacific Games will bring some business but for sustained growth over the long term for Solomon Islands businesses, there is still a lot that we need to do to improve our operating environment and the high associated costs to enable businesses to grow, increased investment and local entrepreneurship to flourish."
 "High electricity costs continue be a challenge for businesses and so will continue to be a priority for SICCI, along with bad costs due to limited or poor infrastructure, while reforms in Tax is moving in the right direction other critical policies and legislative reforms in other areas need to keep pace."
Recognizing the hard work and commitment of the outgoing board members Ms Tuhanuku said, "I acknowledge the leadership of out-going Chair Ricky Fuoo he has been at the helm for one of the most challenging times for private sector and has been very much focused on keeping businesses open during COVID-19 restrictions and he has continued to strengthen the relationships with key stakeholders of SICCI."
"I would also like to welcome the new and returning board members for the 2023 SICCI Board we look forward to having fresh perspective balanced with maintaining continuity as we drive SICCI's strategic ambitions."
Chair Ms Tuhanuku has served on the SICCI board for the past 3 years as an ordinary member, and then Vice Chair for a year before being elected to take on chair leadership.
Returning Board Members are;
Qila Tuhanuku, Manager Corporate, Solomon Breweries Limited
Namoi Kaluae, Managing Director, Adkonect
Louisa Bagaramu – Chief Manager Economics, Research and Statistics, Central Bank of Solomon Islands
Dr Lazaraus Tavichikai – Managing Director, Ecall Health Medical Centre
They are joined by four new members:
Charles Sisimia – Managing Director, CS Vision Management Consultancy, Sunrise Ltd and Homeland Ltd
Sandra Fore – Country Manager, BSP Financial Group Ltd
Jean Fuo'o Luiramo – Administration & Logistics Manager, Tropic Glass & Aluminum
Owen Thomson – CEO, BRED Bank Solomons
The SICCI Board of directors is made up of eight (8) members.
Out-going Chairman, Mr Ricky Fuo'o in his remarks highlighted the role of the Chamber of Commerce in a changing world as he thank members for their support.
Mr Fuo'o said "The world we live in today is vastly different from the one we knew just a few years ago. Technological advancements, shifting economic landscapes, and changing political climates have transformed the way we do business and interact with one another."
"In the face of these changes, the Chamber of Commerce plays a vital role in facilitating business growth and fostering economic development. We serve as a platform for networking, advocacy, and collaboration among our members. Our collective strength enables us to represent the interests of our businesses and communities at the local, regional, and national levels." He said.
"But perhaps most importantly, the Chamber of Commerce is a community. We are a network of like-minded individuals who share a passion for business and a commitment to the success of our communities. Together, we can leverage our collective expertise and resources to create a better future for ourselves and for generations to come."
"So let us continue to work together, to innovate, and to embrace the changes that lie ahead. Let us continue to build our community, to support our businesses, and to ensure a prosperous future for all." Mr Fuo'o concluded.
SICCI CEO, Natalina Hong thanked the members for their commitment to attending the Annual General Meeting and ensuring it was a success and also extend our sincere thanks and appreciation to our 2022/2023 Annual Platinum and Gold Sponsors, and key partners for their support.
Platinum Annual Sponsors are ANZ Bank, Bmobile, Total Print Solutions (Tonershop) , Our Telekom, Soltuna, Solomon Ports, South Pacific Oil, Heritage Park Hotel, National Fisheries Development Ltd, Solomon Breweries Limited and Pasifik Cloud
Gold Annual Sponsors are GPPOL, Positive Development, Solomon Airlines, Kramer Ausenco, Ela Motors, Morris & Sojnocki, Tropic Glass & Aluminum and Island Sun.
Solomon Islands Chamber of Commerce & Industry
1st Floor, Suite 213, Hyundai Mall,
Central Honiara,
P.O.Box 650,
Honiara,
Solomon Islands
T: (+677) 39542
T: (+677) 39543
F: (+677) 39544
E: services@solomonchamber.com.sb