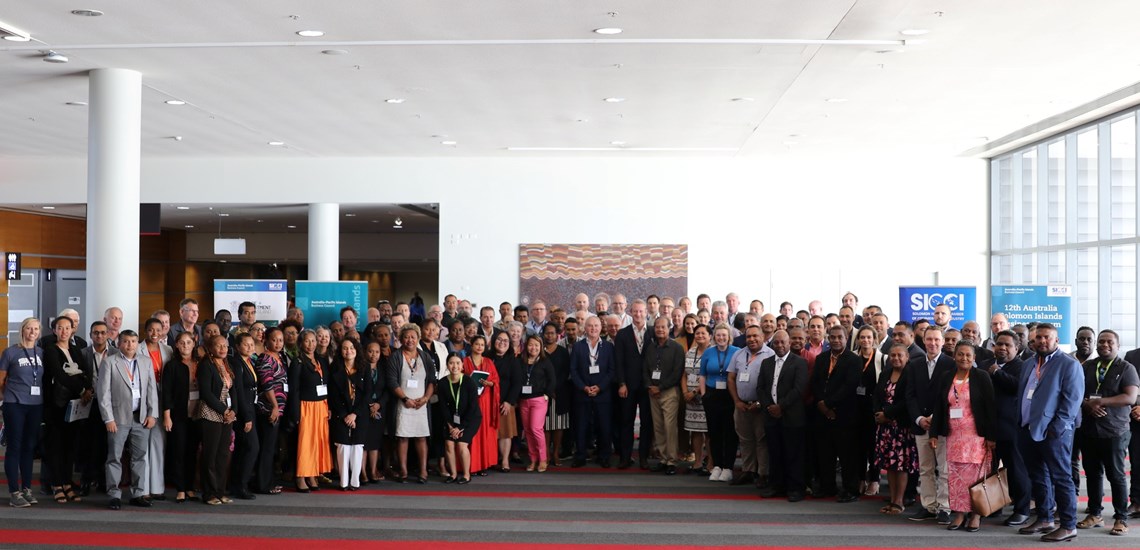 The 12th Australia Solomon Islands Business Forum (ASIBF) successfully concluded on 19 April 2023 in Brisbane with attendance from about 160 delegates from both Australia and the Solomon Islands. With around 30 speakers and panellists, the two-day event was held at the Brisbane Convention and Exhibition Centre and attracted hundreds of business leaders, entrepreneurs, and government officials.
The Australia Solomon Islands Business Forum is an annual event that provides a platform for dialogue and networking between businesses and government agencies from Australia and the Solomon Islands. This year's theme is "Solomon Islands: Open for Business Again" and the agenda includes discussions on trade and investment opportunities, infrastructure development, tourism, and growing partnership after almost three years of global pandemic restrictions.
The forum was officially opened by the Senator Honourable Tim Ayres Australian Assistance Minister for Trade and Assistant Minister for Manufacturing on behalf of the Australian Government and Deputy Prime Minister Honourable Manasseh Maelanga on behalf of Solomon Islands. Key messages in the opening address highlighted the economic ties between Australia and the Solomon Islands and the opportunities for further growth and collaboration.
"The Australia Solomon Islands Business Forum is an important platform for businesses and government agencies from both countries to come together, share ideas, and explore opportunities for growth and investment."
"We are committed to building strong economic partnerships with the Solomon Islands and working together towards sustainable development. While listening to each other is important, we must also get things done. "
The forum feature presentation from a range of speakers, including government officials, business leaders, and experts in diverse fields. The event also includes panel discussions, networking opportunities, and a trade exhibition showcasing products and services from both countries.
The Australia Solomon Islands Business Forum is organized by the Australia-Pacific Islands Business Council (APIBC), in partnership with the Solomon Islands Chamber of Commerce and Industry (SICCI) as part of the organisation Memorandum of Understanding to provide platform for interaction of businesses from both countries with support from the Australian High Commission in the Solomon Islands, and private company sponsors from members businesses.
"We are delighted to host the 12th Australian Solomon Islands Business Forum here in Brisbane," said Ian Clarke, President of APIBC. "Therefore, this event provides an excellent opportunity for businesses and government agencies from both countries to engage in productive discussions and build relationships that will help to drive sustainable economic growth in the region."
SICCI Chair, Ms Qila Tuhanuku in her opening remarks gave the view of Solomon Islands businesses and opportunities that such business forum can elevate and be truly meaningful. 
Ms Qila commented on the forum's theme and the critically high operating environment for Solomon Islands and Australia as one of the closest neighbours. With three years of negative economic growth, Solomon Islands businesses cannot be complacent about what we need and therefore what our economy needs for sustainable growth.
Ms Qila said, "While Solomon Islands may be open for business again- Solomon Islands today is not the same as what it was in 2019."
"The challenges faced by our economy over the last 3 years has shown us, and I acknowledge the Australian government support with programs like the Labour mobility has been of great help with employment, that Solomon Islands needs to create more jobs at home - about 50% of our population are under the age of 18, they need employment or businesses opportunities - this is critical to ensuring social stability."
Ms Tuhanuku further remarked, Solomon Islands need to increase revenue through exports with the decrease in domestic cash flow and consumer spend that remains stagnant, , but emphasising the need to move beyond raw commodities into value-add products to increase the in coming revenue.
"The development of our people is important, we need real capacity development but most of all it is critical that Solomon Islanders take the lead in these changes that we need to grow our economy, to ensure that it is imbedded and is sustainable over the long term. All this needs to be done with a sense of urgency." Ms Tuhanuku concluded.
The 12th Australian Solomon Islands Business Forum is been a highly successful event, bringing together key stakeholders from both countries and paving the way for increased collaboration and investment in the future.
Representatives from Solomon Islands key government ministry such as the Commerce, Foreign Affairs and Trade, Mining, Tourism, and Infrastructure attended to present the country's status for potential investors to the country.
The 13th Australia Solomon Islands Business Forum in 2024 is to be held in Honiara.
Solomon Islands Chamber of Commerce & Industry
1st Floor, Suite 213, Hyundai Mall,
Central Honiara,
P.O.Box 650,
Honiara,
Solomon Islands
T: (+677) 39542
T: (+677) 39543
F: (+677) 39544
E: services@solomonchamber.com.sb