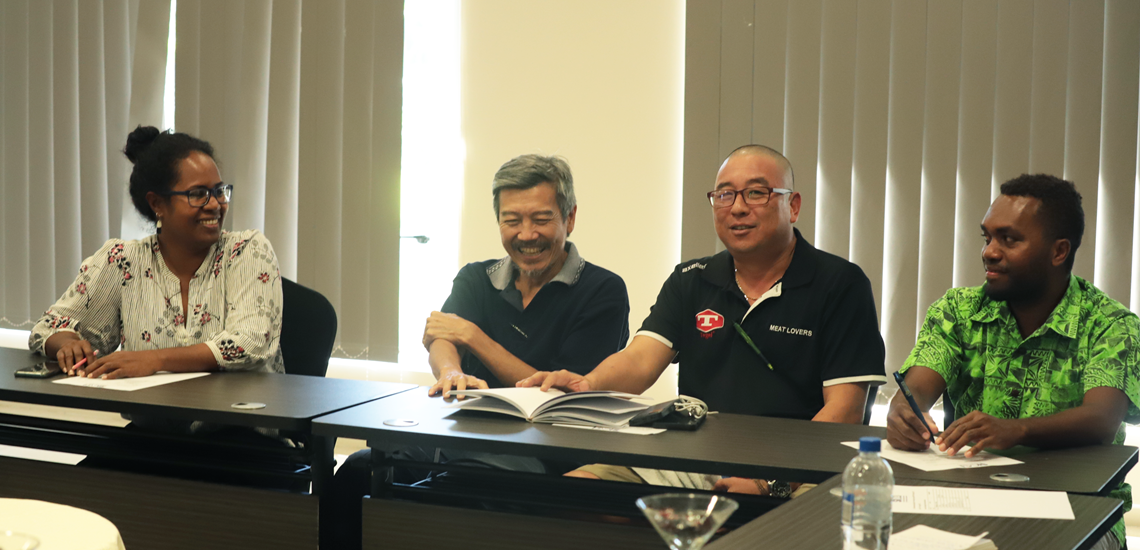 From left to right on the front row is Qila Tuhanuku, Corporate Affairs Manager at Solomon Breweries Ltd, Peter Tam, Inventory and Production Manager at Delite Factory (Biscuit), James Lee, Manager at Meat Lovers and Elvis Bwa'a, Secretary of the working group.
The Solomon Islands Chamber of Commerce and Industry (SICCI) recently established its
Manufacturing Industry Working Group (MIWG) for 2022 through to 2023.
Its first meeting was held on Thursday 4th August 2022 at Heritage Park Hotel.
The Working Group comprising of representatives from the Manufacturing sector is Chaired by Qila
Tuhanuku, Corporate Affairs Manager of Solomon Breweries Ltd who was nominated by majority
votes during their first meeting.  Other members include; Vivian Yu, Head of Finance at Solomon
Islands Tobacco Company, Peter Tam, Inventory and Production Manager at Delite, Suzy Aquino,
Plant Operation Manager at SolTuna, James Lee, Manager at Meat Lovers and Justin Fuo'o, (please
add in Justin's title).
In establishing the MIWG, SICCI Secretariat appointed its six (6) Subcommittees after Expression of
Interest (EOI) process was facilitated by SICCI.
"MIWG aims to provide a platform for informed industry discussions on issues that affect the
manufacturing sector in the area of taxes, operational costs, compliance and local content that can
be taken up with the government and other stakeholders," Ms Tuhanuku said. 
"This expert working group will also develop submissions for consideration by the government and
development partners on areas that will foster a business environment that makes manufacturing
operations in Solomon Islands more viable and will ensure that local companies are not
disadvantaged and local jobs are protected," she added. 
"This group has been a resource for the government and partners in development to draw on, when
advancing and implementing policies impacting manufacturing industry in Solomon Islands," she told
members.
The Secretary to the MIWG and also SICCI Advocacy Officer, Elvis Bwa'a acknowledge members for
expressing their interest to be part of this working group.
Solomon Islands Chamber of Commerce & Industry
1st Floor, Suite 213, Hyundai Mall,
Central Honiara,
P.O.Box 650,
Honiara,
Solomon Islands
T: (+677) 39542
T: (+677) 39543
F: (+677) 39544
E: services@solomonchamber.com.sb